Website Development / Design Services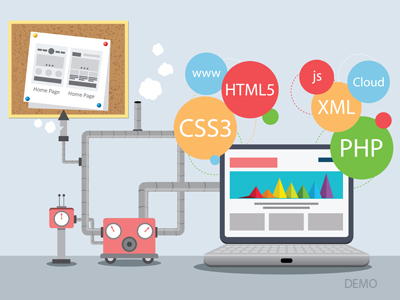 Our Process Combining Liberal Arts and Technology
Our website development process is driven by results that have been achieved over the last decade online. We have continually evolved along with the changes in search engine rankings, regulations, computer screen sizes, mobile devices, tablets, and online customer behavior. Your website should be all about what your customers want and are looking for and we can help you discover that. We continue to optimize and adapt our process, which we have systemized to achieve top results with all the projects we work on.
We start our process with research into your market and current customers. We dive into their heads by analyzing what search terms are used most frequently to describe your products and services. After putting together a comprehensive list, we narrow that down to target the keywords with the most opportunity and likelihood to convert into real customers and leads for your business. We also analyze your competition to make sure we are crafting the right offers and messages to convey your competitive advantage.
After we have a clear understanding of how your customers look for your products and services online and what your unique value proposition is, we can craft the right messages to educate and convert visitors to your site into customers. We then decide what pages will be included on your website it's time for us to collaborate with you and write the content for your website. Supreme ROI doesn't just write copy for the web, we write copy the right way for the web. We include the right keywords into our writing and include all the elements search engines look for when they come to your website and decide where to rank you. This is the power of our process.
Once the website has been planned out and written we provide you with a design that represents your company's brand and helps to build you a superior reputation online. After the design is approved we go on to build a website that follows all of the latest and best practices of search engine optimization and usability. From selling products online, to getting new leads for your services or local store, we can do it all including mobile phone optimized websites and online marketing.
Contact us today to discuss your business goals and how your website can help you achieve them.